Chapter 1
Vector... Is... Coming...
A lonely assistant in his scrubs walks through the mass of corpses that litter the blood soaked hallway. He covers his face with the elbow of his sleeve and gags, then keeps walking. He rounds a corner and see's a lone body laying in the hallway, then cringes, and keeps moving. He had no idea if they were still here, and couldn't take any chances. As he approaches the corpse laying in the hallway, he see's it's hand laying atop the belly of a newborn child, wrapped in a bloody blanket. The corpse had two gunshot wounds in his back, his uniform blood soaked. Suddenly the body cringed and moved, startling the nurse and making him jump against a wall.
"Help... us..." says the man in uniform, then his head once again drops to the floor and he coughs, blood splattering the inside of the helmet. The scrub helped the man against the wall and grabbed the child, helped the soldier up and slowly took them back to the others.
Three hours ago this man was running from GlobeX infantry and got shot in his escape, and a bullet hit the child too. Richardson was laughed at and insulted for his compassion, but he pressed on and finally reached the newborn that he dropped. Now he's lucky to be alive, but seems less concerned about his own life, but instead is more concerned for this child. As he remembers what happened, his anger skyrockets, increasing his burning hatred for GlobeX.
After a trek to the elevator, the scrub presses the button to take the elevator to the 4th floor. The weight of the elevator moving upwards against gravity hurt Richardson's weak muscles. He was still dizzy and weakened from his unwanted 3 hour nap. He checked his health on his heads up display and it read back to him that he had 2 health bars, in the red. That means something bad. The only thing he could guess is major blood loss, as he took note of his dizziness and weakness, and the feeling as if the whole world is spinning around him. He reaches into his pocket for a health stim, something to ease the pain and make him a little more independent in his crippled state. After he digs around in his pockets on his uniform he doesn't find one.
"Shit..." he exclaims, clearly frustrated.
"What's wrong?" asks the assistant, holding the still sleeping child in his left arm.
"No health stims." he replies, and then looks at the child. "He okay?"
"Not sure.... he seems to be breathing fine. But it looks like he's lost a decent amount of blood. He needs medical attention quickly."
"GlobeX fucking bastards..... You'd think they would have the least amount of humanity to not shoot a newborn child."
"Some soldiers say they're half human, half demon...." the scrub says, clearly disturbed at the thought.
"I don't know but what happened back there is enough to convince me they're not human or Vermaak... Just patch me up as soon as you can." says Richardson, unsure and weak of faith that the child will make it.
------------------------------------------------------
After a few hours, the scrub comes to the On-Call room to meet with Richardson. He's smiling and holding a soda.
"You seem chipper today James." says Richardson, "What's got you all happy after all of that shit?"
"The fact that the kid's gonna be okay. Now we just need to get him to his parents." replies James, taking a sip of his cola. He always loved Sweets Cola. It was one of his favorites, ever since he was a child. But hearing the words "get him to his parents" didn't settle well with Richardson. He wasn't sure why, but he had developed an attachment to the child. They had been through so much in the child's first day on the planet.
Richardson sighs and his helmet opens, as if it was never there, and Richardson runs his hands through his curly brown hair, then clears his throat and looks at James.
"You know that blood covered mass of corpses that are mangled on the 3rd floor?" says Richardson, "That was a grenade. The kid's mother was in that crowd. I know she was. She looked at me with relief as I came out holding the kid. His father was in there too... The kid's family is gone J.... Not a damn thing I could do about it. It's my-"
"It's not your fault Rich." says James, putting his hand on Richardson's shoulder. "It's not your fault just because a grenade killed those people. It'll never be your fault unless you threw the grenade. There's nothing you can do about it now."
Richardson looks him in the eyes, his brown eyes clearly distressed with emotion unlike any he has ever felt before. He seems humbled and vulnerable.
"I'm doing the family a favor and I'm caring for the kid until he's better. I made him my responsibility when I picked him up from the incubator, I'm not throwing that away now."
"You sure man? You're 21, single, never had parental experience, no kids, nothing. You want to take care of that little guy?" James asks, surprised at Richardson's sudden speech.
"Yea. Sure, why not? How hard could it be?" Richardson says.
----------------------------------------------
"Jesus fucking Christ....." says Richardson, panting for breath.
"Told you. Not as easy as you'd think to take care of the little fucker." says James.
"Give that damn kid a laxative." Richardson exclaims, having just changed a diaper for the first time just 5 minutes ago.
After the parenting lessons, Vermaak 88 reinforcements arrive to the hospital. They rushed in and scouted out the place for survivors, seeing Richardson with a newborn in his arms, they evacuated him and the rest of the doctor's team from the hospital. On the way out, Richardson takes a look at the infant, who is smiling up at him as if nothing had ever happened today.
"He doesn't have a name yet. Wanna name him?" says James, who is smiling at the child and playing with his little fingers.
"He's a miracle James. A pure miracle. Hey... how about Justin? Seems like a decent name..." Richardson suggests, smiling at the kid as if he didn't have a care in the world.
"Not too bad. I think it's nice man." says James, playing peekaboo with Justin and his blanket. "Well what are we doing now? I mean... That... thing happened in there. Where do we go from here?"
"We'll see where our lives go soon enough." replies Richardson, with a blank expression displaying his empty mind.
-----------------------------------------------------------------
Many years later, Justin is now 13 years old. He's a star student at school, making A's and B's. Wonderful personality for a kid with his past. He enjoys Gaming and movies, music, and history. He lives with Richardson, and now Richardson has become the Vermaak 88 Field Marshall, or leader, of the Vermaak 88. Field Marshall means he leads them, and at the same time, is a soldier. Now however, GlobeX hasn't been seen for an entire 3 years. And for the Vermaak, a year is a very very very long time.
Richardson comes into the living room of their house and see's Justin playing his game. Justin looks up and pauses.
"Hey Mark. Going somewhere? Need any help?" says Justin.
"No... just going outside for a bit. Get a bit of fresh air. Wanna come?" replies Richardson, in full uniform.
"Sure! Lemme finish this game and I'll come out there." Justin says, and Mark goes outside. 5 minutes later Justin comes outside.
"Hey Mark, the power just went out." he says, confused.
"Really?" says Richardson, going back inside to see the lights struggling to stay lit, then failing altogether. "...huh... Ain't that something..."
After a short silence, the door opens again, and Justin shouts to Richardson, startled and frightened.
"Hey Mark! You've got to come see this!" Justin screams, and Mark runs straight outside and looks up to see a massive black and red ship in the sky, slowly moving towards the city of Auxeria, and a fleet of 5 white and blue corvettes taking flight to combat the black and red Cruiser in atmosphere. 3 Vermaak 88 frigates also take flight, fighters flying towards the massive Cruiser, bombers flanking it from it's left, tearing into it's shield with their plasma missiles. Fighters launch from the Cruiser on both sides as the Vermaak fighters bank to their right to counter the threat's fighters.
"GlobeX attacks NOW? After 3 years of silence and cowering in the depths of the cosmos?!" screams Mark, as his  cell phone rings and he answers it. "Hello? Yes I see this. Of course get the battleships in the air! And the carriers! I want two fleet carriers in atmosphere countering the invasion as soon as possible! Get the men ready. We're in for a hell of a fight."
Within 30 minute's after this call ends, 2 Fleet Carriers, followed by 3 Carriers each, fly over Justin and Marks House, and Tanks, Warthogs, and Vermaak 88 Infantry march down their street to Auxeria. Mark Richardson says goodbye to Justin, and that he'll contact him soon, and he runs out to join the marching army going down the street.
Richardson runs to the front of the march and marches in time with their footsteps. After around 45 minutes of marching, they make it to the battlefield inside the city and disperse to cover, Richardson already taking down 4 GlobeX with a few shots. Then popping out of cover to hit a couple more. And again. And again. and then the Vermaak 88 begin advancing into the sea of gunfire ahead of them. Some Vermaak get taken out in the advance, but more GlobeX fall with every step the Vermaak take. The GlobeX throw grenades and begin sprinting towards the Vermaak.
"Clearly these are Melee infantry" Richardson says to himself, letting the rifle hang behind him, unsheathing the machete strapped to his back, flipping it a bit and then charging forward, the Vermaak infantry under his command follow his every action and charge forward, machete's braced and ready as they run into the charging horde of light armored blade wielding GlobeX infantry.
The two massive armies clash and units on both sides fall, stabbed and sliced, dismembered, and slaughtered as they tear each other apart. Some units hang back, shooting at each other and dropping like flies. The entire city has become a warzone in less than an hour, and it's like this all over the planet of Pangaea, the Vermaak Homeworld.
Richardson stabs a GlobeX unit in the stomach, then takes it out and stabs the blade through his head, upwards, then takes it out again and spins around, blade swinging outward, and cutting halfway through the neck of another enemy unit behind him, taking the blade out of him, he basically slices and dices another, stabbing another, and decapitating another. slowly but surely the war returns to a ranged war, and both sides typically stick to rifles and other such weapons.
In the air, the GlobeX Cruiser has gotten reinforced by another Cruiser, 2 carriers, and a few battleships. Vermaak Pilot Major Winters flies his fighter squadron towards the corvettes, hit's a chaingun on the ship and pulls up and away, when thats when they see a massive ship flying into the atmosphere.
It was a GlobeX Flagship named the GX Damnation. It was thought to be just a rumor, but it actually stays afloat in front of Winter's squadron. Winters orders them to pull left and bail, fly back to the fighters and stay there. Anything to make them a harder target, but then they're ordered to fly back to Urktozet to assist the Vermaak 88 in that region, so they pull out with the rest of their unit
Justin sits at home, and finds a .45 caliber pistol. A TAC .45 that Richardson always keeps int he house, just in case they might need it. Justin hears a noise at the door. Loud banging against it. At first he thinks it's Richardson, but then he realizes that Richardson has a key. He grabs the gun, checks if there's a round in the chamber, and hides behind a chair.
"Get this door open!" a raspy voice calls from outside the door, and there are more banging sounds, as if a battering ram were hitting the door.
"Remember what he taught you.... remember what mark taught you...." Justin repeated to himself over and over until he heard the door slam open. He peeked his head over the chair, aimed and fired 3 rounds. Each round hit their target, 2 in the chest, 1 in the head, and the GlobeX trooper dropped back, pushing the door open farther, Justin drops behind the chair, hears a few shots, and then runs into the kitchen, and flips the table over to provide cover, and peeks over the table, aiming and waiting for someone to stick their head out. A GlobeX unit comes around the corner, and jumps, startled when he see's Justin with his pistol and gets shot 2 times in the head. Just as he drops to the ground, his comrade comes out from behind the wall and fires. Justin ducks behind cover and then runs out, and hits the trooper across the face with the pistol. The soldier purposely drops his rifle and grabs his knife, slashing wildly. Justin leans back, dodging the attacks and then grabs his arm, punching the soldier int he throat and then turning him around, kicking the back of his knee and smashing the pistol into his head, denting the helmet, then aims and pulls the trigger, shooting the soldier in the head.
---------------------------------------------------------------------
After the battle, the Vermaak on the ground prove victorious. Power is restored to the city of Auxeria. But when the screens in the city, and the TVs at home come on, they automatically have a live stream of a man in a coat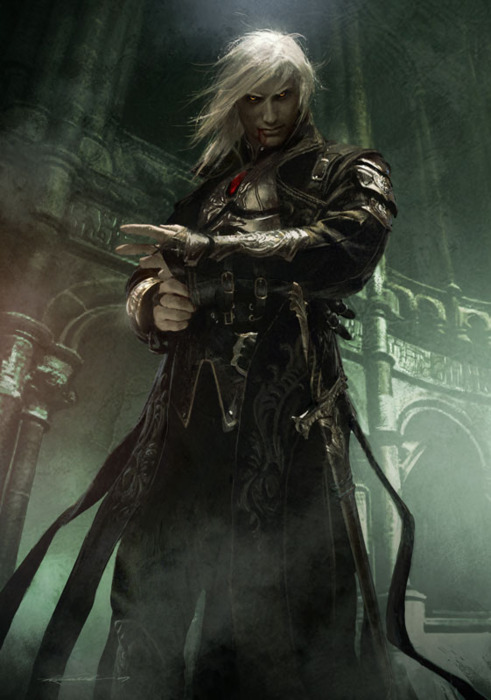 and a man in a Vermaak 88 uniform, his helmet not activated, and his head hanging down.
"Greeting everyone. I am Lazarus. The leader of GlobeX. I have here with me a man of great skill and interest. You may have won this battle for your homeworld, but we have your Leader. and we are going to kill him right here and right now, while you watch. Any last words "Field Marshall"?"
The Field Marshall lifts his head slowly, cracking a weak smile. and speaks loudly and clear, but slowly.
"When I was a Sergeant... I saved a young child from impending death... and I watched in horror and GlobeX had tossed a grenade, and the grenade killed everyone packed into a small space. 2 of those people were this child's parents. The explosion was loud... Enough to shatter a child's ears. Yet this newborn baby looks at me as happy as he was the moment I took him out of the incubator. He never cried... never wept... nothing.... Today he's the strongest person I know. This 13 year old boy is the Vector the prophecy talks about.  And that's his name. Vector." Richardson exclaims loudly, then looks up at Lazarus. "This Child will be your downfall. If he isn't, He'll give you hell until the end of your days. Be ready asshole." He paused for a second. Then finished his statement.
"Vector... Is... Coming..."
Lazarus smirks lightheartedly and aims the pistol at Richardson's head. Then he chuckles a few times.
"Cute... but futile." Lazarus says with an evil smirk. Then he pulls the trigger, and Richardson's body limply falls to the ground.
And Vector watched the entire thing.
~~~~~~~~~~~~~~~~~~~~~~~~~~~~~~~~~~~~~~~~~~~~~~~~~~~~~~~
If you guys enjoyed it let me know how it was and I AM SO SORRY for the long ass story xD MY MIND GOT TO ROLLING AND THE MOVIE WOULDN'T END D: but i felt like i had to tell the entire story of this kid, and i want to, so to make sure i didn't leave any "what the hell, this makes no sense, why cliffhang us here of all places by a single bungee cord with a piano on the end of it for fucks sake" so i decided to go ahead and finish what made him who he is now right here, and don't worry! it's not over if you want more lol because to be completely honest, with the vermaak, i'm not even DONE with the New Beginning, and i skipped to the New Beginning, and didn't cover the entire history BEFORE that soooo yeh ._.
If you need me to explain anything, i'll do it, but if you want to full history of the Vermaak, then i won't, and instead i'll tell you in a series of stories over their whole history of the most important parts, the parts that define them as who they are and how they got here. it also tells more about the history of their planet, and such other things as that. and what makes them different from earth and stuff anyways i hope you enjoyed it and to be honest i got a writer block so it's probably MORE BORING than the rising action of the PROLOGUE i did yesterday :(but i did the best i could with wtf was rolling in my head and i got called and summoned a lot by my parents and distracted LIKE RIGHT FUCKING NOW >.< so i apologize if it sucks